Rescue food, feed a community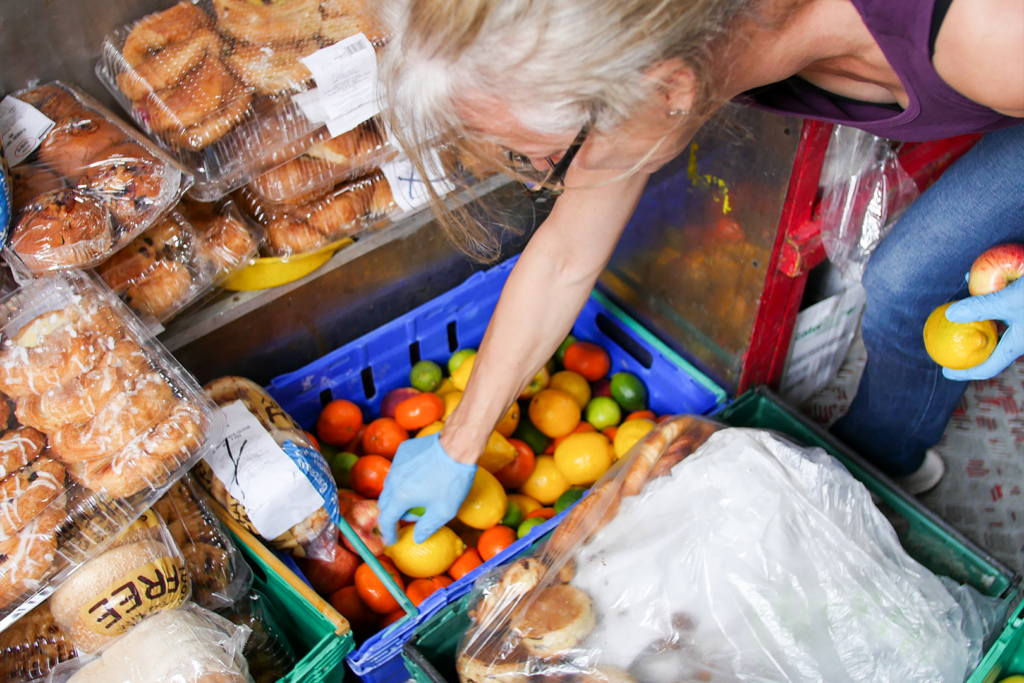 The sudden UK shutdown in March 2020 was enough to spur many local groups into action, to provide stability and food to their communities.  
It is estimated that between a third and half of all food produced is wasted and sent to landfill sites, where it decomposes rapidly and causes methane gas. In the short-term, this is much more damaging than carbon dioxide. Food waste accounts for around 8% of the world's total greenhouse gas emissions — three times as much as aviation.  
In 2019, WRAP found that 3.6 million tonnes of food is wasted in the UK each year, and of that, 2 million tonnes is still edible and could feed the eight million people that face food insecurity in the UK today. This is the goal of community fridges.  
Community fridges are popular in cities across the world: surplus food is placed in a communal space, available for anyone to either help themselves or leave more. They differ from food banks as users are not assessed and do not require a referral. Transition planned to follow the basic principles of community fridges in order to provide a new service to the people of Stirling, a city with a population of 37,000. 
Transition Stirling had plans for a community fridge in development before the pandemic begun. They accelerated the process, launching Stirling Community Food in conjunction with The Kitchen at 44 — the town's arts hub — within the first week of the shutdown.
The first weeks were a blur, with food being rescued from cafes, restaurants, and pubs, as well as local producers. As time went on, the charity made the majority of food rescue from supermarkets.  
One year later, the charity has saved nearly 43 tonnes of food. Meals have been provided to more than 3000 people, and Community Food works alongside community groups in satellite towns to make surplus food accessible to many more people. With so much food coming through their doors each week, there was a need for some way to streamline their activities.  
Stirling Community Food has accounts with both Neighbourly and FoodCloud (partners of FareShare), online platforms that facilitate efficient communication between charities and their suppliers. Supermarkets including Aldi, Marks & Spencer, Tesco and Waitrose agreed to donate food near its Best By date to the project instead of discarding it.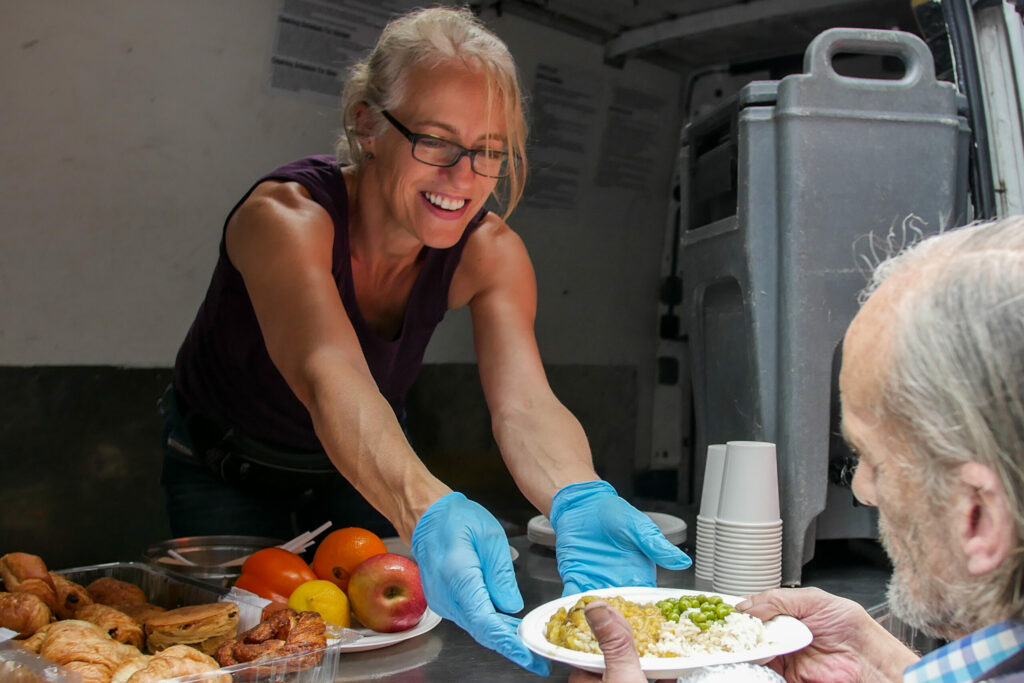 FareShare is the UK's longest-running food redistribution charity. They organise collections and sort food in their own warehouses. Suitable donations are then delivered to charities within the network. In its 26-year history, FareShare has saved 24,000 tonnes of food from waste, assisted nearly 11,000 charities and groups, and provided an estimated 57 million meals. 
FareShare began working with FoodCloud in 2014 as a way to link the established food distribution network with a new way of working. Accessing smaller amounts of perishable food that might go to waste within a supermarket is a different challenge from rescuing at other stages of food production and service. Collecting, storing, sorting and redistributing takes time. Developing a platform that created a simple way of connecting charities directly to local stores was a unique solution that has since been rolled out internationally. 
Both FoodCloud and Neighbourly provide an online space for supermarkets and other retailers to log donated food items, which instructs charities that there is surplus available. This is a great resource for organisations that run on volunteer time, and aids busy supermarket workers.  
"Neighbourly was launched in 2015 as a CSR [corporate social responsibility] platform designed to grow community investment and engagement by making it easy for companies to donate time, money or surplus to where it's needed most," says Steve Butterworth, Neighbourly's CEO. "We've grown to be the UK market leader in back-of-store food surplus redistribution and mass employee volunteering, helping businesses to deliver community engagement at a local level, at scale. 
"Our network of over 16,000 local good causes gives us the ability to access insights into the needs of communities at a hyper-local level, and in turn create giving programmes that allow our partner businesses to have the greatest social impact." 
Neighbourly was a vital tool when the pandemic hit the UK. "A survey of Neighbourly's network of causes at this time revealed a sharp rise in the number of requests for help, at the same time as these organisations were being forced to close or reduce services due to social distancing measures, lockdown restrictions and a sudden drop in volunteer capacity," says Butterworth.  
"77% of small charities supporting vulnerable older people were expecting services to be disrupted, and more than 60% had already started to see a reduction in food surplus donations as a result of instability in the food supply. Government statistics at the time were showing that three million children were at risk of going hungry during school holidays — and these schools were now facing an uncertain number of months closure." 
Guided by the principles that saw Neighbourly become one of the UK's first B Corps — corporations that put social and environmental concerns at the forefront and work with transparency and accountability to make real change — the organisation launched a COVID-19 fund to give unrestricted mini-grants of £400 to causes across the UK and Ireland, eventually giving away £1.2 million and helping one million people.  
Salaam Shalom Kitchen (SaSh) is another charity set up with the intention of saving food, reducing waste, and turning it into positive action within the community. They work in a different fashion to Stirling Community Food, showing the range of ways frontline charities and community groups in the UK are making use of food waste.  
SaSh is a partnership between Muslim and Jewish communities and since 2015 has provided hot nutritious meals and warm drinks free of charge, reducing social isolation and loneliness while also tackling food poverty. This was done via a weekly meal, cooked by a chef and volunteers using rescued food, and welcoming all.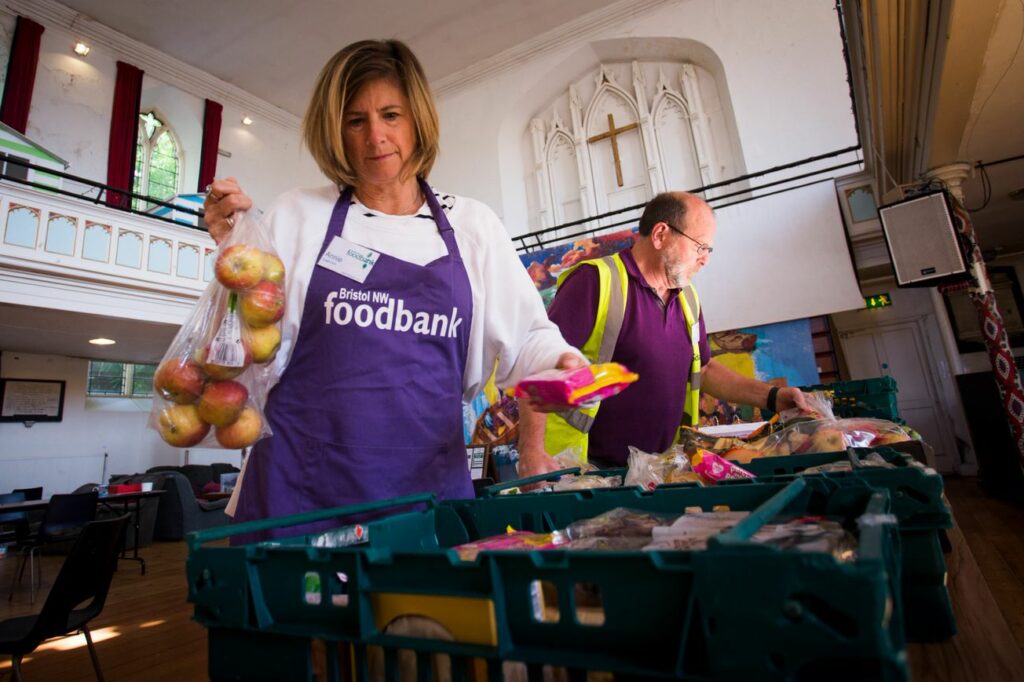 "We used to receive food from FareShare but more recently have collected it solely from Neighbourly," SaSh Trustee Eve Cina said. "In the past we used donations primarily as food for meals, adding it to food from Himmah foodbank, who also use Neighbourly, or purchased locally. Pastries and cakes provided desert. Any unused items were offered to guests. Flowers were consistently very popular! 
"Until March 2020 SaSh provided meals at the Bridge Community Centre which is situated in a church in an inner-city area of Nottingham." Restrictions put an end to the family-style meals, though SaSh began providing takeaways in August.  
Cina expands on how the charity's activities have evolved to reflect current need: "Since we reopened, reflecting the changed delivery method and increased need, we provide a grocery bag to as many service users as possible," she says. "We have different bags for the street homeless who do not have access to cooking facilities. It is our impression that many people, especially families, value the grocery bags as much, if not more, than the hot meals.  
"Our clientele has changed since we reopened, in part due to the different provision, but also the increased need. Numbers have increased significantly — last week we served over 200 meals, where it was previously in the region of 75. There are more young homeless people and more families with young children using our service." 
Over 70,000 families have become homeless in the UK as a result of the pandemic, according to date obtained by The Observer. Moreover, food insecurity has become an increasing concern for the younger population, with 26% of 16-24 year olds reporting accessing food through foodbanks and charities.  
"Food waste is a significant and costly challenge for food businesses," says Food Waste Campaigns Manager Ylva Haglund, from Zero Waste Scotland. "While preventing food waste from arising in the first place should be a priority, redistribution is an important tool in ensuring that high-quality food surplus does not become waste and can instead go to people and communities that can use it.  
"Tackling the scale of wasted food in our society is an economic, environmental and moral imperative, and redistribution of good food is part of the solution.Connectivity is key as food going for redistribution is often near its end of life. Speed and ease at which solutions can be found is crucial for ensuring food doesn't go to waste. By reducing the amount of food we throw away, we can make a significant contribution in the fight against climate change." 
There is one major negative factor to supermarkets and large retailers using food rescue and redistribution charities to get rid of food that is past selling: instead of being responsible for their waste, they simply pass it along to a charity, which must then utilise volunteer hours to sort food into useable donations, items for animal feed, waste that can be sent to biofuel conversion, and that which cannot be used and must go to landfill after all.  
Instead of sorting donations of food past its Best By date from food past its Use By, some retailers offload everything at once. Food safety standards prohibit food past its Use By date from being provided for human consumption. Of the charities contacted in researching this article, this was the most common complaint about the process.  
Food waste is especially bleak when set beside the UK's statistics on hunger and food poverty. 14.5 million people, a fifth of the UK population, live in poverty. The number of children living with food insecurity — ranging from moderate to severe — has risen to 2.5 million during the pandemic, according to UNICEF estimates.   
Charities and community groups working on a hyper-local basis are able to save food from landfill and adding to climate change concerns, and put it to use by feeding people, for free. Both Neighbourly and FoodCloud charge businesses a fee to register and use their platforms, and provide access to charities free of charge. There is no cost to these frontline organisations, meaning that they are able to more efficiently and effectively do work that makes a difference.  
Carly Ramsay, a coordinator at Community Food, explained that, without Neighbourly and FoodCloud, the organisation would require someone checking donations and organising pickups constantly between 7am and 9pm. "It would end up being me organising collections all day long," he says. "With the apps, we can send a screenshot to the volunteers asking if anyone can do this, and get a quick response. If we were to try and do it by phone call I think it would take hours to organise something that takes a few seconds on the app." 
With the introduction of platforms providing free, user-friendly services that connect food suppliers and charities tackling food waste, hundreds of thousands of tonnes of food, and carbon, have been saved. Volunteer hours are put to the best possible use, and a variety of charities and organisations have been able to utilise otherwise landfill-destined food to ease hunger and loneliness. Neighbourly and FoodCloud are incredible examples of how national organisations can enable local groups to enrich the lives of the people in their communities.