Women in Tech: Mission Critical
Maxine Benson MBE, cofounder of the international women-in-business network everywoman, on why advancing female leadership in the technology industry is not a 'nice-to-have'.
The technology industry has made great steps in terms of gender diversity; an increase in women and those in senior leadership roles, more visibility of successful female role models, and the rapid growth of initiatives to encourage more young girls into STEM subjects. However, the $1 trillion and rapidly growing industry is facing a recruitment crisis and needs to address its diversity and inclusion as a social and economic imperative to drive and allow for sustainable future growth.
Currently only 24% of people working in STEM in the UK are women. While this is expected to increase marginally to 29% by 2030, women still only account for 10% of leadership roles in the industry1. And for those women forging careers in tech, they face a 2.8% gender pay gap2. It is estimated that to achieve gender parity in the UK technology sector, one million women need to be hired and that this shift would benefit the economy by £2.6bn3, and based on current trends, it would take 22 years (until 2044) for the same number of women to be starting STEM apprenticeships as men, according to new analysis by the Labour Party conducted as part of National Apprenticeship Week.
Addressing this gender gap is why the everywoman in Technology Awards were originally established in 2010. The ongoing requirement to attract and advance more women in this industry has never been more urgent. The past 14 years has produced so many stories that demonstrate the impact this programme has in achieving this goal. These awards showcase the diverse, fulfilling, and exemplary careers that women can have in technology and how they really can make a difference to people's lives.
This year's 2023 FDM everywoman in Technology awards celebrated the tech industry's most exceptional talent and recognised all stages of the career journey from apprentices to C-Suite, creating role models to inspire the next generation from the UK and beyond.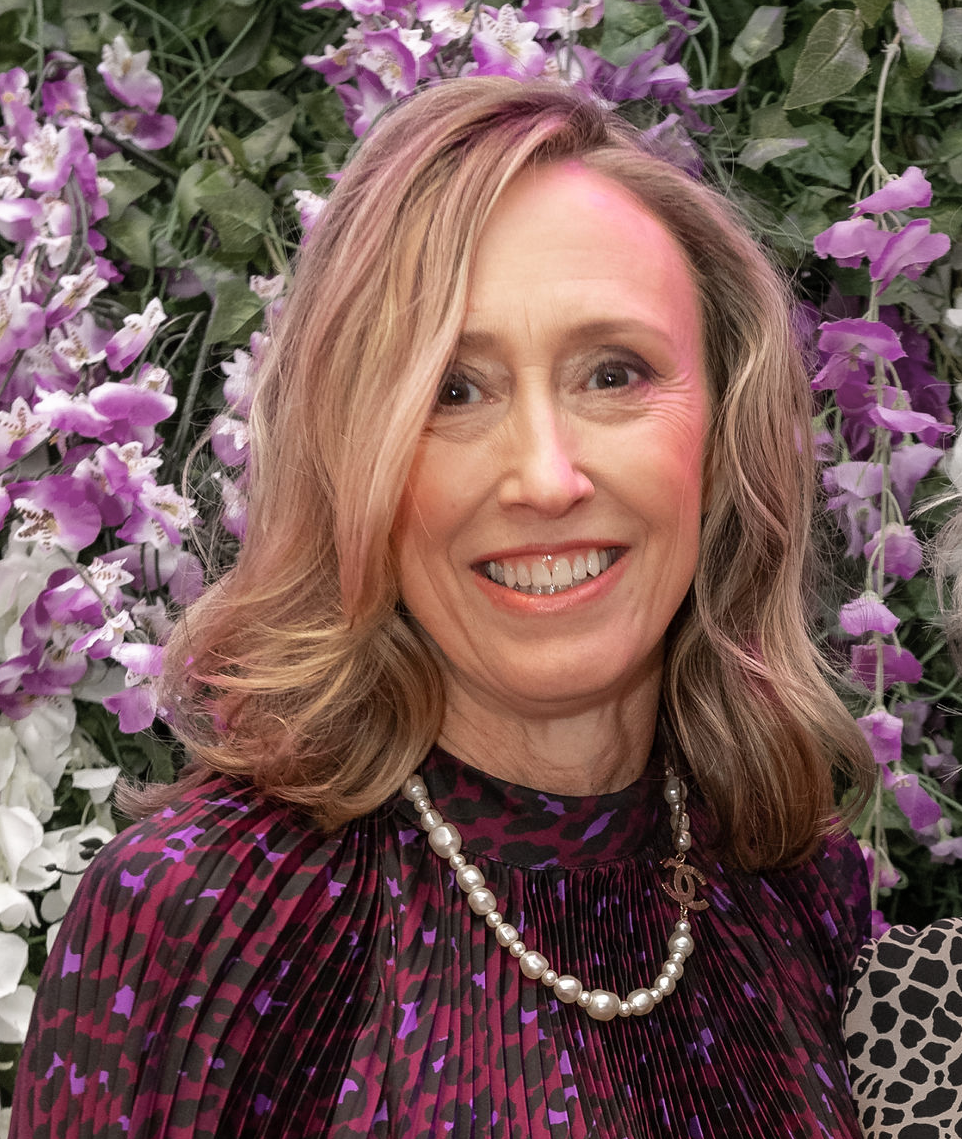 An area within the technology industry that is key for growth and cut from the same cloth as diversity, is sustainability. Terms such as "green tech" and "clean tech" have emerged in recent years and the positive impact the tech industry can have on us all is clear in even day-to-day solutions like smart homes. In 2021 we launched a new awards category, Tech For Good, which recognises a woman who is driving forward an initiative that uses tech for good – whether as part of a social enterprise, diversity and inclusion, a focus on sustainability or any other area of impact.
With the necessary global drive for not only sustainability, but within a wider umbrella of ESG, it is clear just how entwined gender equality (social) and sustainability (environmental) are to ensure responsible, successful, competitive, and inclusive businesses. The marriage of gender equality and sustainability even gives a competitive edge in talent retention. Research found that 60% of UK job hunters research a potential employer's sustainability commitments before accepting a position, while nearly 2 in 5 say they have rejected a job because it did not align with their values in terms of social and environmental impact, and women are more swayed by a company's values.
A 2022 Deloitte study showed that, while society and environmental impact along with diverse and inclusive cultures may not always be the top of the priority list when choosing a job, these continue to be critical issues in terms of retention. Those who are satisfied with their employer's societal and environmental impact, and their efforts to create a diverse and inclusive culture, are more likely to want to stay with their employer for more than five years.
This year's Tech For Good Award category was sponsored by RS Group and Adele Baker, New Ventures Development Director at RS Group, has said that "RS Group is a global engineering and technology led business that advocates for equality, diversity and gender balance. Our partnership with everywoman is at the heart of our belief in championing education, innovation, empowering people, and doing business responsibly."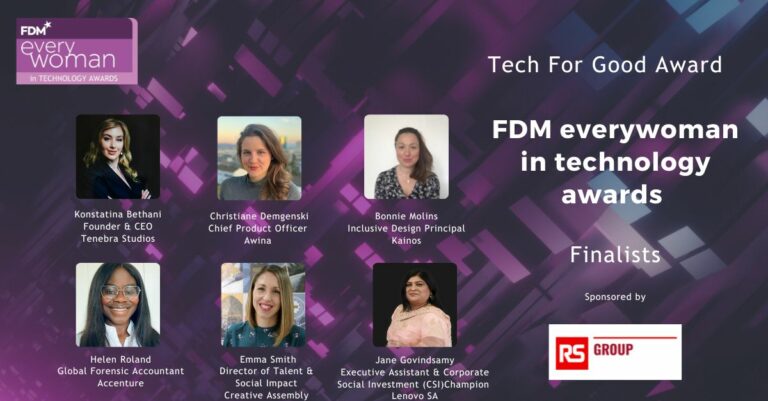 To keep moving the needle on gender equality and its role alongside wider ESG and sustainability goals, representation is key. It has been inspirational to hear the stories and achievements of women overcoming the challenges of operating in a male-dominated industry, while simultaneously making a positive impact on the world. We are thrilled to shine a spotlight on this year's Tech For Good category finalists, believing they will have a positive impact in encouraging future generations of women into technology careers.
Chief Product Officer at Awina, from Zurich
Awina is a Swiss fintech start-up serving families with young children that launched in 2021 with Switzerland's first day-care financing solution. A dual French and German citizen, Christiane holds an M.A. in International Relations from Sciences Po in Paris and spent five years building digital banking products at Switzerland's largest bank before joining Awina. She has a baby daughter, is currently studying her seventh language, and volunteers as a firefighter.
Founder & CEO at Tenebra Studios, from Athens
Tenebra Studios is an independent video game and digital interactive software development company with high-profile partners globally in the public and private sectors. Konstantina is a game development professor, researcher, mentor and organiser of several technology events in Greece. Through her own initiative and funds, Tenebra Studios has created educational applications for refugees and has released free educational games that enable children to familiarise themselves with technology.
Global Forensic Accountant in Legal and Commercial Services at Accenture, from Dublin
As well as being a qualified accountant, Helen holds a higher diploma in Computer Science. Helen also plays an active role in Inclusion and Diversity programmes at Accenture. Helen led the partnership with Global Tech Advocates (GTA) Black Women in Tech, specifically supporting the publication of their book 'Voices in the Shadow' I and II.  The book features 51 stories of black women who impacted the tech industry and inspires future generations of black female talent to pursue a career in tech.
Inclusive Design Principal at Kainos, from London
Bonnie has committed her career to producing tech that improves the lives of diverse people, working across charity, commercial, healthcare and public sectors. At Kainos, she is an ethical tech leader and a powerhouse of digital inclusion, leading the delivery of cutting-edge inclusive design for services used by millions every day. Bonnie is passionate about creating a fairer world through technology. She demonstrates this by acting as a mentor to inspire and guide the next generation of women, and by driving digital innovation to create equitable access and outcomes for all.
Executive PA to the General Manager at Lenovo South Africa, CSI Champion and Black Economic Empowerment (BEE) Administrator, from Johannesburg
Jane started at Lenovo four and half years ago and has evolved with new skills and applying them to new responsibilities. The role of BEE administrator strategically coincides with CSI projects that Lenovo South Africa successfully delivers. Jane is responsible for the budget, planning and execution of set objectives. She enjoys working with internal and external stakeholders in ensuring beneficiaries are empowered. Jane also successfully leads the compliancy aspect of all the projects.
Director of Talent & Social Impact at Creative Assembly, from West Sussex
Emma has been with the multi-award-winning videogame studio Creative Assembly for almost 14 years, seeing it grow to over 800 people strong. Emma heads up the studio's global recruitment, as well as the award-winning education and social responsibility program, the Legacy Project, which she founded in 2014. The Legacy Project aims to break down existing educational barriers and give people from all backgrounds the skills and information to become the game-development talent of tomorrow. This has led to key partnerships to drive forward the quality of games education in the UK, including with BAFTA, IntoGames, Women in Games, Pixelles, Ukie, Digital Schoolhouse, Teesside University and the East London Academy of Music and Arts (ELAM).