Powering digital equity in Philadelphia
The City of Philadelphia's Office for Innovation talks to Tech For Good about how it was able to leverage the strength of public-private partnership to provide internet access to thousands of households and children, passing the pandemic test with flying colours. 
At the start of 2020, digital access was a commodity. Less than three months later, it became a human right, without which many were unable to access vital resources such as healthcare, banking services and education. Aware of the difficulties that affected its most vulnerable residents, the City of Philadelphia set out to close the digital divide. 
Faced with an inequality gap that threatened to set back a generation in the wake of COVID, the City of Philadelphia turned to its private partners to create a collaboration that would change millions of lives in record time. According to research conducted by the City's administrators in 2021, 84% of residents stated they had wireless broadband internet access. However, only 63% of low-income families said they have access to a desktop, laptop or tablet. 
"Governments were forced to innovate very, very quickly," says Andrew Buss, Deputy CIO for Innovation at the City of Philadelphia. "A lot of private companies realised the significance of digital equity and felt that they had to become involved with some of that work, knowing that governments cannot do it all."
Digital equity has been a priority for the City of Philadelphia's Office of Innovation and Technology (OIT) for over a decade. When the COVID-19 pandemic threatened to prevent a large number of children from accessing school resources, Philadelphia relied on its vast experience mastering the art of public-private partnership to help prevent that.
"Before the pandemic, nobody realised that we really needed to consider internet connectivity in the same way we consider other utilities," says Juliet Fink Yates, the City's Digital Inclusion Manager. "The internet is now as foundational to our society as electricity and heating." 
Although Philadelphia's classrooms effectively transitioned to a virtual environment, many households were unable to follow suit. The City's team quickly realised that, although most communities in Philadelphia had broadband access, they often did not have the means to sign up for these services and provide their children with the tools they needed to succeed in a socially-distanced world. 
"The pandemic really brought all of these virtual activities into every student household, whether they were ready or not," says Ashley Pollard, K-12 Digital Access Program Manager at the City of Philadelphia.
PHLConnectED was the City's solution to the challenge. The program provides free, consistent and reliable internet access to pre-K–12 student households. To achieve this, the City brought in support from all fields, from ISPs to non-profit organizations, united with the goal of helping those most in need at a critical point in history.
It was an instant success. By the end of the first year, the City of Philadelphia and its private partners had enabled over 18,700 connections. Now, two years later, the program includes grants for schools, as well as digital skill classes and a multilingual 24/7 hotline that provides information about the initiative and conducts eligibility screenings. To date, this successful public-private partnership has enabled over 22,500 connections.
"Partnering with private companies is really necessary for governments," Buss says. "We are often expected to do a lot of things, and we do not always have the expertise, the resources and the knowledge to do some of them."
Philadelphia's commitment to partnership has taken shape in the form of the Digital Literacy Alliance (DLA), a group of institutional stakeholders tasked with bridging the city's digital divide. The initiative brings together non-profit organizations like United Way as well as industry partners such as Comcast, Verizon, AT&T and T-Mobile, to provide funding and strategy for innovative digital inclusion projects programs across the region. 
In the past six years, the Alliance has provided about $200,000 in yearly grants to fund innovative digital literacy projects. One of the most successful is the City's Digital Navigator Program, where digital support staff provided one-to-one dedicated support to households around accessing and using technology. The City, through the OIT and the Office of Children and Families, has supported a public computer centre network which ensures residents can easily access computers all across the city. 
"When we shrink the digital divide, we enable people to access all the benefits and services that the government and the community have to offer them," says Fink Yates. "We know it has saved lives."
The City of Philadelphia wants to ensure that no person is left behind in the transition towards a digital society. For this reason, it has crafted a digital equity plan that will provide residents with access to affordable devices, internet connectivity and digital skills. But achieving this ambitious goal requires the sort of extensive expertise and support that only the private sector can provide.
T-Mobile: Towards Ten Million
In 2020, having recently completed the acquisition of Sprint, as well as a $9bn investment into low-band 5G spectrum, T-Mobile was in a strong position to provide internet access to those in need. During the worst of the COVID crisis, the company was able to rise to the challenge posed to it by the City of Philadelphia: Make sure all the city's children could attend virtual lessons. 
"At the start of the pandemic, we knew that the communities impacted the most would be the ones that were historically underrepresented," says Dr. Kiesha King, National Education Administrator at T-Mobile. "As a company, we needed to step in and take action right away."
T-Mobile is no stranger to partnerships with public organisations. In 2016, the telecommunications giant collaborated with the Philadelphia Housing Authority through the ConnectHome program, designed to provide devices to 2,500 low-income families. That same year, T-Mobile launched a national initiative called EmpowerED, which offered funding and hardware to school districts. When the pandemic hit, the company knew it had to aim much higher, and pledged to invest $10.7bn to connect 10 million students across the country to the internet over the next five years, in what became known as Project 10Million.
To achieve this goal, T-Mobile and the City of Philadelphia set up distribution centres all around the city, where families could pick up Wi-Fi hotspots and instruction manuals in 11 different languages. Shane Brody, the company's Senior Digital Inclusion Specialist, even turned his garage into a "hotspot distribution centre" for a few months. Once PHLConnectED launched, eligible students could continue to get a mobile hotspot through district distribution centres, their Charter school, or through a selection libraries.
"Everyone at T-Mobile was working extremely hard to help those that needed help the most," he says. "We said: 'Anyone who needs a connection, T-Mobile is going to support it, whether that be through a hotspot through an embedded Chromebook or a connected tablet. Within that a two-week timeframe, we rolled out thousands of these in Philadelphia alone."
The City of Philadelphia's Ashley Pollard celebrated T-Mobile's commitment to ensure that the city's children had the capacity and bandwidth to participate in online education. "The critical piece that led us to partnering with T-Mobile is that they had the best pricing for their hotspots that offered the highest data capacity, as well as unlimited data and access," he says. "We didn't want to run into issues of limited data or caps." 
However, education does not end with schools. Another one of the City of Philadelphia's landmark digital equity programs is the Free Library, which loans hotspots via funding from the FCC and through the PHLConnectED programme, allowing residents to access the internet from anywhere in the city with the support of T-Mobile. To date, the program has enabled over 13,000 connections, helping residents access a variety of opportunities, from telehealth consultations to job interviews and skills workshops. 
"Our work with the City is going to make sure that families don't just have a network and a device, but they're empowered to be able to use that to live a different life than they would have before," says Dr. Jeff Carlson, K-12 Education Advisor at T-Mobile. 
"It's about making sure that, no matter where they are, Philadelphians have a network that's going to get them connected to the world around them." 
When public and private entities work together, they can leave a lasting impact on innumerable lives. But materialising life-changing projects requires resources, something that was in short supply in the summer of 2020, when the City of Philadelphia was designing its 'back to school' operation. Enter Accenture. 
"The pandemic has helped governments understand the importance of collaboration and partnership," says David Davies, Client Account Lead at Accenture. "In a crisis situation, government needs to be able to request help when they need it."
Accenture was especially well-placed to help the City of Philadelphia tackle the challenge of ensuring digital equity. The company had previously partnered with the Department for Labor and Workforce to redesign government services in a more accessible and user-friendly way, and its dedicated education practice of over 500 professionals has helped hundreds of clients across the world improve student outcomes and experiences.   
"COVID-19 really disrupted education across the globe, and of course, across America," says Sarah Amendolare, Strategy and Management Consulting Manager at Accenture. "Engaging with not only the schools, but the communities and, specifically, underserved communities was really critical to our strategy." 
Christiane Reinhold, Management Consulting Manager at Accenture, adds: "People have now gotten an idea of what they want from government: they want access, and it should be easy, it should be fast – the only way to do that is to bring in the private sector."
Accenture's main role within the City's pandemic response was to offer program management and implementation support the PHLConnectED program. From developing a program management plan with ISPs to creating the necessary materials for virtual lessons, the Accenture team was part of every step of the project, becoming vital to its success. 
"In two months' time, we needed to coordinate multiple large institutional partners to develop and launch this brand new city-wide program before the start of a school year, and ensure that every student had a way to get access to the internet as quickly as possible," says Fink Yates. "We could not have done it without Accenture."
Ending the digital divide is a huge effort that requires early intervention. In addition to supporting the City of Philadelphia, Accenture is increasing the quality of education children in the area receive by partnering with schools that serve communities in need. The goal of this initiative is to launch innovative early-education centres throughout the Commonwealth that they hope will help break the cycle of poverty.
"To have opportunity to work alongside government to better serve their constituents is just really rewarding work for us," says Kevin Brown, Client Account Lead at Accenture. "For me, it's a joy to bring to our clients the best of Accenture, to give them the tools they need to better carry out the work they do, which is often essential."
Verizon: a community-wide enterprise
Education is key in the building of a revitalised and more accessible society in the post-COVID world. However, it is not necessary to wait until today's children's become adults before promoting solutions that foster innovation and digital skills within a community – a lesson that the City of Philadelphia's partners took to heart. 
As one of the world's leading providers of communications services, Verizon has been an active partner in policies that enable broadband expansion across the United States. During the pandemic, the company provided grants for small businesses, and promoted projects such as the Verizon Innovative Learning Program, that aims to train 10 million young people with new digital skills by 2030, allowing them to fully participate in society's digital future.  
"Participation in the digital economy is essential in just about every aspect of our lives," says Pedro Romero, Verizon's Director of Government Affairs. "We at Verizon continue to work on closing the digital divide by focusing on creating and making available world-class broadband networks."
Due to their common commitment to fostering innovation and helping underserved communities obtain digital skills, the partnership between Verizon and the City of Philadelphia was a perfect match. 
"We've partnered with Verizon to create an external innovation fund," Buss says. "We are seeding ideas from outside city government, seeing how they work and then potentially bringing some of that technology inside city government."
The goal of the Philadelphia Fund for Leadership, Innovation, and Entrepreneurship (Philadelphia FLIE) is to become the missing link between public administrations and local innovators to help solve the city's most pressing challenges. FLIE focuses on creating a dynamic ecosystem across the city where innovative ideas can be piloted, and founders receive the expert mentoring and funding they need to make their ideas a success.
"FLIE is a perfect example of how collaborations between city governments and companies can help local businesses," Romero says. "This synergy between public and private partners creates the perfect environment for innovation within the public sector." 
As technology advances, it disrupts the job market. For a community to not only survive, but to thrive in the digital era, all of its members need to be able to access the internet, whether that is for healthcare, education or professional purposes. 
In partnership with Verizon, the City of Philadelphia has also launched a project to redevelop the City's traditional public computing centres to create public computer centres. From accessing school to taking consultations with doctors, these centres have been created as spaces that allow every citizen to be connected to the digital world through technological devices and high-speed connectivity. 
"If you have access to a broadband connection, good things do happen," says Eric Fitzgerald Reed, Vice President of State Government Affairs, Pennsylvania and Delaware at Verizon. "These centres provided a much needed resource at a time where people were just confused or intimidated by technology. They opened its doors to make sure that people felt included and had a place to go to for their connectivity needs." 
If the FLIE program provides the opportunity for entrepreneurs to collaborate, the City's public computer centres offer venues where those ideas can flourish, transforming the city of Philadelphia into a place where innovation is not a privilege, but a norm – all thanks to the power of partnerships with the private sector.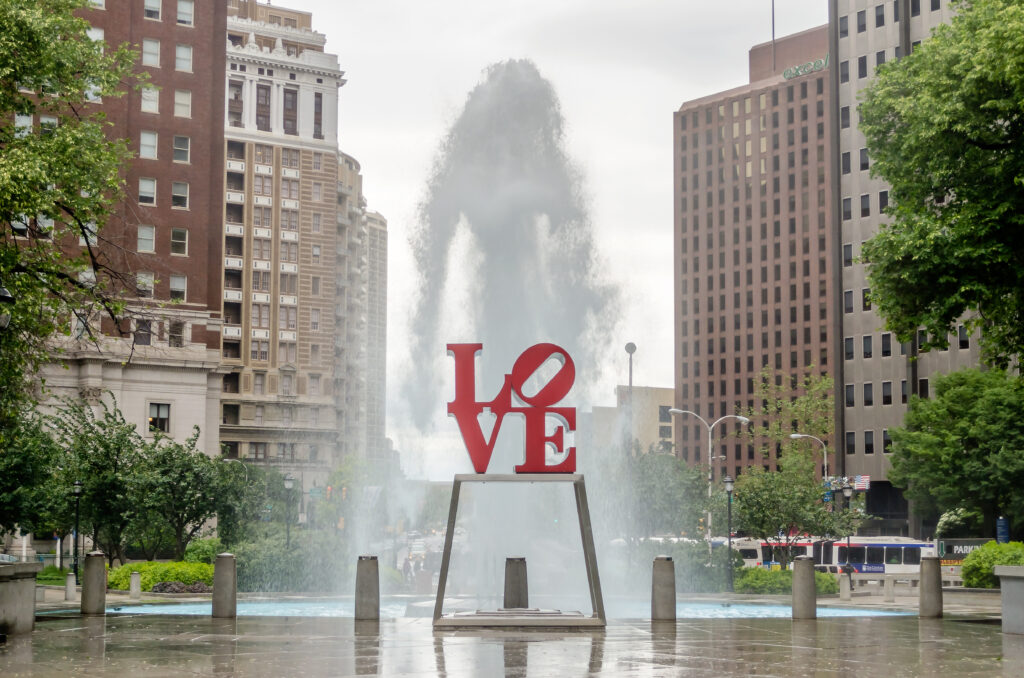 As society becomes increasingly complex and connected, challenges also become less siloed, and need to be addressed from multiple perspectives. When a global epidemic threatened the future of the millions of residents of Philadelphia, the City's established relationships and willingness to collaborate kept the worst-case scenario at bay and helped prepare a generation for a digital future. 
"The City of Philadelphia and the School District of Philadelphia are second to none when it comes to bridging the digital divide," says Dr King. "What the city did is take their school district, non-profit organisations, companies, and bring them all together to create connectivity for all."
"I'm not sure you can have a smart city without digital equity," Buss adds.
During times of crisis, the desire to help the most vulnerable prompts governments and private organisations to take action. Thanks to the success of these partnerships, the residents of Philadelphia were and will be able to take advantage of the many opportunities the digital era provides. In five years' time, the City envisions a scenario where no Philadelphian has to worry about whether they've got a device or an internet connection, and the country as a whole has embraced digitalisation in a way that is inclusive and accessible for all.